How to refer UpPromote: Affiliate Marketing?
Click
Apps
to see the app list of Secomapp.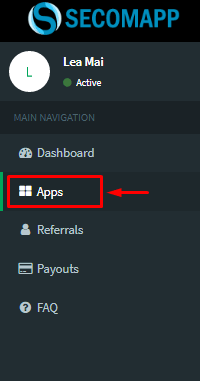 From this page, you can select UpPromote: Affiliate Marketing to start promoting.
When you set your own referral code already, an Affiliate URL will be generated especially for you for each app.
You can click "copy" to get this link and promote it everywhere to attract your customers.
The link can be included in your mails, blogs, social media posts or any kind of ad channels you may own
. Anything which leads to an install, you'll gain 20% for life.
The best thing here is if your clients by any chance click to install different apps other than the one you recommend, your full
20% commission
will be auto-recorded as well.
Many apps from our list are complementary and our cross-sell strategy used to achieve many positive results so I bet you will gain effortless marketing benefits.